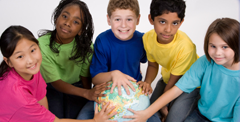 There are 143 million orphaned children worldwide. Many countries allow these orphaned children to be adopted. Adoption Assistance has assisted families in adopting children from 35 countries around the world. Children of all ages are available and range from single children to sibling groups of two, three and four children. Numerous children with very mild to moderate to more severe special needs also wait for forever families. Adoption Assistance's Adoption Workers can assist families in determining if international adoption is right for their family and if so, from which country to adopt. Julie Erwin, the founder and Executive Director of Adoption Assistance, has adopted five children internationally.
International Adoption: The Step by Step Process
Decide if international adoption is the best option for you.
Submit your Adoption Assistance application on line or mail/email/fax a hard copy to the Adoption Assistance office.
Upon receipt of the application, Adoption Assistance will immediately email you a pdf file containing a checklist and the documents you need to begin the process. You will also be assigned a personal Adoption Worker who will call and introduce herself within 24/48 hours.
In conjunction with your Adoption Worker, create a personal adoption plan of action to determine the international country from which you will adopt (if you don't already know!).
Gather paperwork for your home study and dossier (court documents for the foreign country).
Complete home study visits.
Apply to immigration, compile dossier (if required) and get appropriate seals (Adoption Assistance will walk you through this process)
Submit dossier to your child placing agency
Submit profile to the child placing agency
Receive a child referral (information about an available child with whom you have been matched)
Accept or reject referral
Prepare your life and home for your child as you wait for paperwork to be completed in the foreign country.
Receive notice to travel to bring your child home.