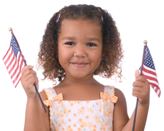 Through Adoption Assistance, families can adopt a child domestically (within the United States). Our families adopt children from birth through their teenage years, although the vast majority of our families adopt newborns. Birthmothers (and at times birthfathers) typically select a family to adopt her unborn child by reviewing profiles and consulting with our birthmother counselors. Once the child is born, the child leaves the hospital with the adoptive family. At other times, a family may adopt a waiting child on a website such aswww.adoptuskids.org or an older child needing a family due to the birth family's inability to care for a child.
Adoption Assistance families have the opportunity to adopt children referred by Adoption Assistance, attorneys, hospitals, out of state child placement agencies and private individuals. With the many ways Adoption Assistance clients can build their family, placements occur in a relatively timely manner.
Domestic Adoption: The Step by Step Process
Decide if domestic adoption is the best option for your family.
Submit your Adoption Assistance application on line or mail/email/fax a hard copy to the Adoption Assistance office.
Upon receipt of the application, Adoption Assistance will immediately email you a pdf file containing a checklist and the documents you need to begin the process. You will also be assigned a personal Adoption Worker who will call and introduce herself within 24/48 hours.
Gather paperwork for your home study.
Complete home study visits.
In conjunction with your Adoption Worker, create a personal adoption plan of action to determine the best way to build your family.
Compile birthmother letter/profile (if necessary)
Submit profile to the child placing agency
Receive a child referral (information about an available child and birthmother with whom you have been matched)
Accept or reject referral
Prepare your life and home for your child as you wait for paperwork to be completed/ child to be born (if applicable).
Receive notice that it's time to go to the hospital or travel to bring your child home.